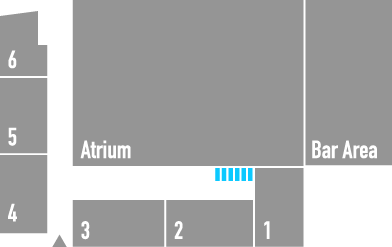 Atrium
The Atrium is our largest space and suitable for multiple purposes.
It has a built-in sound system and (4) wireless microphones, which can be used for talks/presentations, live musical performances, or the playing of recorded music.
The Atrium also contains a fully functioning antique organ, which can be rented for qualified organists.
It has a seating capacity of ca. 100 persons.
It has a standing and maximum capacity of ca. 200 persons.
Room size – 16.2m x 11.7m
Bar
The Bar Room is directly off the atrium. It can provide a smaller space for smaller gatherings or, can be used in combination with the atrium to create more space and allow for the accommodation of more people. The bar room has a large white wall that can be used as a large viewing wall, in combination with a beamer/projector. It also of course has a physical bar complete with two refrigerators, bar sink, glassware, serving trays, etc. It does not have any beer taps.
The seating capacity of the Bar is ca. 45 people
The standing capacity is ca. 60 people
The tables can also be removed from the bar to allow for theater/lecture style seating (chairs in rows). The tables can also be replaced with our high top standing tables, which allows for more standing room.
Room size – 13.4m x 5.95m
For use in Atrium and Bar:
19 Tables – 80cm x 80cm – seat 4
9 Tables – 1.6m x 80 – seat 6
9 high top standing tables
ca. 120 Chairs
We also have two professional electric pianos available for use.
*Currently, we do not in principle rent out the Bar and the Atrium separately. This is due to the fact that these rooms are not able to be booked/occupied at the same time by two different parties. If you have any questions about this, please phone us or send us an email.
Rooms 1 – 6
Rooms 1 – 6 are multi purpose meeting rooms, located upstairs around the Atrium.
Room 1
Room size – 5.8m x 3.5
1 table – 2.40 x 1.20
14 chairs
Room 2
Room size – 6m x 3.7m
Room 3
Room size – 6.4m x 4m
Large Table – 3m x 1.25m
10 Chairs
Room 4
Room size – 5.25m x 3.3m
Table – 1.6 x 80cm
6 Chairs
Room 5
Room size – 5.4m x 3.2m
Table – 1.6m x 80cm
6 Chairs
Room 6
Room size – 4.25m x 3.25m
1 Table 1.35m x 90cm (expandable to 2.4m x 90cm)
10 Chairs
Choir Loft
The Choir Loft is located upstairs at the front of the Church. It can accommodate up to 40 people max for music group rehearsals, lectures, or other types of meetings.
Room size – 12m x 4m
Tables and Chairs can be added as needed.
Equipped with small coffee station and bathrooms.